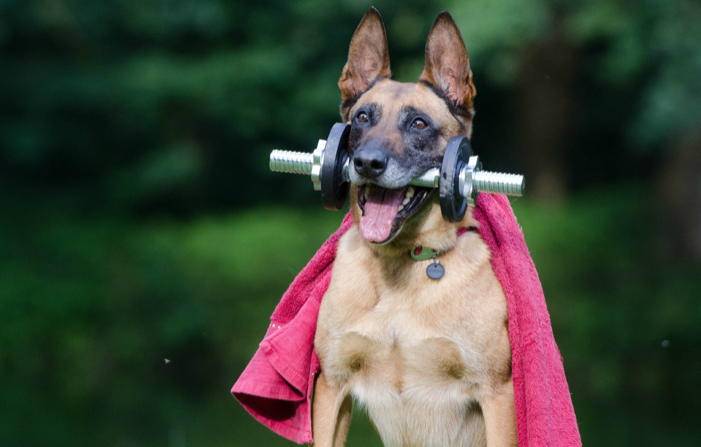 Working out with your dog can be a fun and endorphin-increasing experience! It doesn't have to be limited to simply going on walks either, which is why we've made a list describing some of the many ways you can exercise with your dog!
Here's to spending more quality time together by working out with your dog!
Yoga
This is called "doga"! If you're already a yoga fan, this can be a great way to increase the amount of yoga in your life. Take into consideration the size and personality of your dog. Be patient and humorous, as it could possibly take some time for your dog to adjust to being more relaxed. There are doga classes, and also doga books for home use. Namaste!
Running/Jogging
This can be quite a strenuous exercise with your dog. Avoid over-exercising your dog if they're younger than nine months as this can damage their developing bones. This is especially true if running on hard surfaces like pavement. Remember, dogs need to warm up too! Having the right running dog leash and access to water is always a good idea.
Rollerblading
There are training methods for this, such as the "behavior focus method", "on wheels method" and "slow train method". They all focus on ensuring basic command words are obeyed, and safety precautions are paramount. Our shortie leash can help with training your dog to stay close until a loose leash is needed.
Swimming
Different breeds may be better swimmers than others. Don't push your dog too quickly. Let them adjust to the water and always supervise them. Dogs can quickly tire when swimming and may need help getting to dry land. Never throw your dog into the water and consider using a dog life-jacket. Swimming is an extremely beneficial activity for working out with your dog.
Catch/Fetch
When training your dog to fetch, focus on these aspects: chasing, motivation, retrieving, avoiding them staying away with the object and getting the object back. Also, it helps to make sure you are using an object or toy your dog likes!
Hiking
Remember, don't over-exercise puppies or senior pets. Build your dog's fitness gradually and consider that like you, your dog also needs recovery time. Toughen your dog's paws over time naturally by walking them. Also, invest in good hiking equipment such as a harness, a whistle, and a dog leash for running.
Horseback Riding
This can be tricky but can also be very fun! Ensure your dog has good obedience skills before introducing them to a horse. Then practice those skills again in the presence of the horse. Start things slowly: bring your dog when feeding or mucking up your horse. Don't rush the two animals together, as horses can be very dangerous to dogs.
Always remember to be mindful of what your dog is capable of when working out with your dog.  Also, take note of their comfort zone and fitness. When you take the right safety precautions, it's exciting to try new things with your furry friend. Have fun!