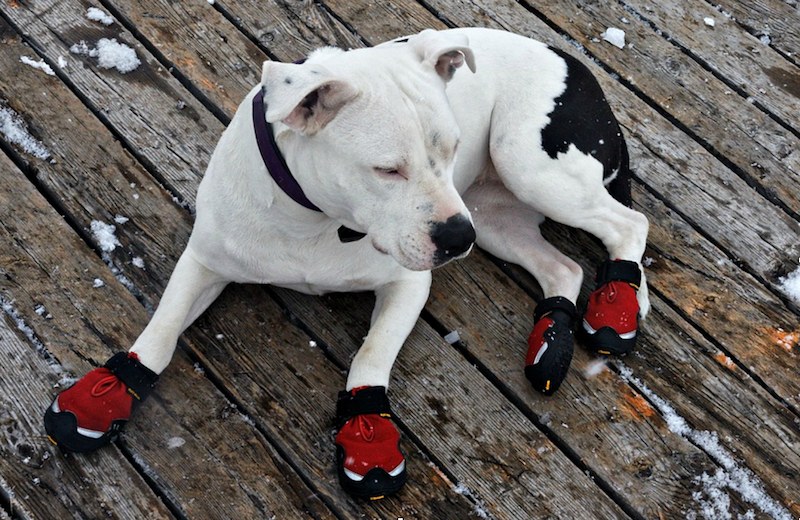 Outdoor dog boots are an important accessory for any pooch on an adventure. Dog boots help to protect the paws of our dogs from debris and dirt that might get stuck between their paw pads and either injure them or cause severe discomfort. Boots are essential to preventing cracks and calluses on our dogs' paws and for keeping their feet clean. When we go out camping, running, or hiking, we make sure that we are prepared with the correct gear and footwear. Our dogs deserve that same foot care that we give ourselves when we go outdoors.
If you're thinking about buying outdoor dog boots for your next adventure, you're in luck! Here are our top 8 boot picks for serious nature lovers!
Bark Brite All Weather Reflective Dog Boots
Bark Brite All Weather boots are a great value if you want a durable dog boot. They are neoprene based, meaning they not only stretch, but they are waterproof. The durable soles of the boots help protect your dog against sharp objects, extreme cold or extreme heat. They also give the added benefit of having reflective straps, so, should you be hiking or running in the dark, your dog is able to have on reflective gear, too!
Ruffwear Grip Trex
Ruffwear's Grip Trex are the high-end outdoor dog boots for any dog that will be joining you on hiking, biking, running, or camping trips! The outside sole is constructed like a human hiking boot, allowing your dog to have exceptional traction on varied and harsh terrain. The exterior is constructed from breathable mesh, which keeps your pooches paws cool while they exercise. The straps have a two way securing system, which keeps them attached securely to your dog's feet.
Top Paw Reflective Booties
If you're trying to start your dog on boots, or looking for a cheap alternative to hold you over for a bit, Top Paw Reflective Booties is the way to go. These outdoor dog boots have great traction due to their bottoms, which are made from a rubberized thermoplastic. The straps are reflective on these, as well, for added visibility. While they are cheaper than the other boots of the list, they are a good starting point for people who haven't tried boots on their dog before or who want to see them in person before buying.
My Busy Dog Winter Boots
My Busy Dog Winter Boots are meant for cold weather, but the non-slip traction based sole also makes them work extremely well for outdoor activities. They're completely waterproof and come in eight different sizes. Add that they are endorsed by the AKC and you have a quality pair of outdoor boots for your friend!
Wuxian Waterproof Outdoor Dog Boots
These boots are sized by breed, so that you can easily fit your dog. They are water resistant with durable, printed soles that increase your dog's grip. The material is breathable to allow for indoor or outdoor wear and they are lightweight so that you can ensure your dog's comfort on your next hiking or camping trip.
Muttluks Fleece Lined Dog Boots
If you intend on doing any outdoor winter adventuring, this product is perfect for your pup! These dog boots have a fleece lining that keeps the paws warm. The treated leather soles protect your dog from snow and ice while also providing flexibility.
DOG Australia
These boots will match your Uggs at home. These boots are constructed from a flexible vinyl with a printed rubberized sole, which increases grip on harsher surfaces. The inside is lined with velvet for added warmth and breathability. Add in that they are extremely stylish and cute and you have yourself a fashion-forward choice for your next trip!
Kurgo Step and Strobe Outdoor Dog Boots
Like most of the other boots on this list, these boots offer intense grip for the rugged surface you will encounter outdoors. They are breathable and are purposely built to be long-lasting. These boots are unique, however, in that they feature 360 degree LEDs built into the shoe for extreme visibility of your dog! This is especially important for nighttime camping when your friend could run off. The increased safety of these boots makes them an obvious choice for the list.
When you're preparing for your outdoor adventure, your dog needs to be prepared, too! Before heading out of that family camping trip, make sure that your canine companion has the proper footwear for your voyage! Your pets' paws will thank you!