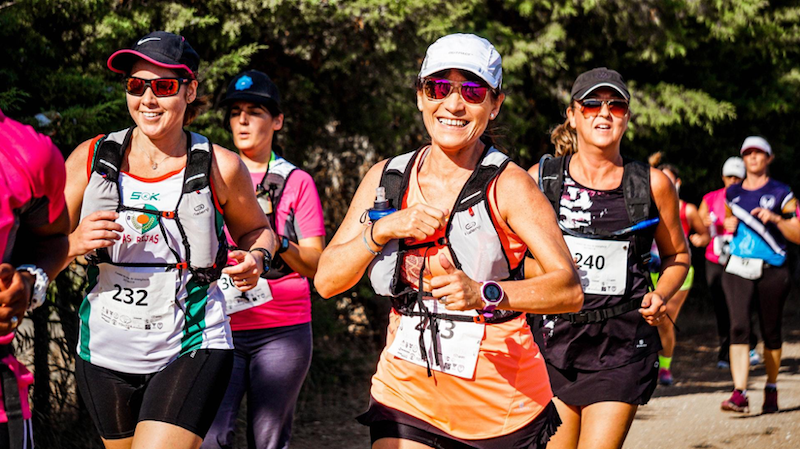 Dog-friendly marathons and dog-friendly races are exploding in popularity in the United States. Every town and community seem to have their own fun run, charity run, trail run, or half-marathon where canines are invited to participate with their human companions. Europe even has a sport named Canicross. These are cross-country races where you are attached to your dog by a special harness and bungee cord.
Benefits of Running 
Besides increasing fitness for both you and your furry buddy, running together has been shown to have many other positive benefits. This includes strengthening the bond between pet and owner, plus decreasing stress and anxiety.
Maybe you are looking to enter a short fun run as a fitness goal for your New Year's resolution. Perhaps you want to explore miles of singletrack during an ultra-endurance race. Whatever your reasons are there are many pet-friendly runs to choose from wherever you may live.
Marathon Preparation
Before entering any race please be sure to consider the health of both yourself and your dog. Most sane people wouldn't attempt a full marathon without extensive training. This same theory applies to your pet. Do not enter a race unless you both have the fitness level to make the run a fun and enjoyable experience.
Another aspect of a successful race or marathon with your dog is investing in the right equipment. A specific dog leash for running with ensure a safe and comfortable run for both of you. Depending on your needs you can choose from hands-on or hands-free running leashes. Coil leashes offer a tangle-free solution for maximum safety.
The following is a list of some of the most popular dog-friendly races across the United States. While by no means an exhaustive list, the races listed will help illustrate the variety that exists in the pet-friendly running arena.
FURRY SCURRY - DENVER, COLORADO
The Furry Scurry is an annual event at Wash Park in Denver that has been going on for over 25 years. If walking or a shorter run is more your speed, this is the event for you. The Furry Scurry is a 2 mile amble or run in this big park just south of Downtown Denver and benefits the Dumb Friends League and their mission to care for homeless pets. This day has evolved into an all day pet extravaganza, with competitions, contests, and showcases carrying on well after the dog friendly race is over. If you are a dog lover in the Rocky Mountains, add the Furry Scurry to your calendar.
RUNNING WITH THE BEARS - GREENVILLE, CALIFORNIA
Running with the Bears is a 10k, half, and full marathon in Northern California. Located a few hours from Reno, Sacramento, and the Bay Area, this race is sponsored by and benefits Mountain Circle Foster Care, which helps support foster children and families. While some races have limitations on which distances dogs can take part in, the Running with the Bears allows dogs in all categories. The gentle course and beautiful scenery makes this a popular pet-friendly run.
https://www.runningwiththebears.org/
COLUMBIA GORGE HALF-MARATHON AND MARATHON - HOOD RIVER, OREGON
Located in the stunning beauty of the Columbia River Gorge, this event will allow you and your best furry friend to participate in the half-marathon. Dubbed as "The Most Scenic Marathon in the Country", the course will take you through the splendid fall colors of Oregon. Known as a well organized event from registration to the finish line, this is one of the top dog-friendly races for you if you live in the Pacific Northwest.
https://www.columbiagorgemarathon.com/
TAILS AND TRAILS - OMAHA, NEBRASKA
This event includes a half-marathon, 10k run, 5k run, and a 1 mile walk which are all dog-friendly. The races take place in the Chalco Hills Recreation area and features varied terrain through rolling hills. The best part is that all proceeds raised will benefit three non-profit pet rescue groups in the Omaha area. If you live in the Great Plains, check this event out!
MOOSALAMOO ULTRA - GOSHEN, VERMONT
This event features a 14 and a 36 mile loop through the Moosalamoo Recreation Area and both distances are dog friendly. Moosalamoo is an Indian term meaning "song of the moose" which you very well may hear during the race through the Vermont summer. If you are a New Englander looking for a less crowded and out-of-the-way race to participate in please check the Moosalamoo out.
https://www.moosalamooultra.com
ENDURANCE RACES
Endurance races test the resilience of both human and canine. These races can be 50k, 100k, or even 100 miles! While many endurance races are not dog-friendly, there are a few that will allow you to bring your buddy along for company. The Pony Express 100 in Utah, the Deception Pass 50k in Washington, and the Salt Flat Endurance Runs in Utah and Nevada are examples of pet-friendly endurance races.
http://ponyexpress100.org/http://ponyexpress100.org/http://saltflatsenduranceruns.com
Your dog spends enough time home alone, waiting patiently for you to return from work or school. There are many ways you can include your pet in your recreational activities outside the home, and running races together is one of the best! As the season turns over to spring and the weather gets nicer, be sure to check your local newspaper or community calendar for one of the many dog-friendly races in your area.