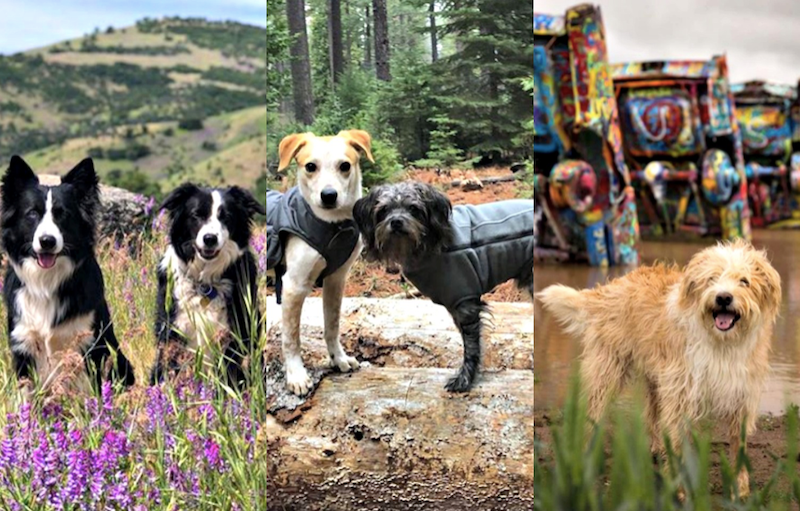 photo credits: @thehikerpup, @alisontravels, @explorewithollie
Is there anything cuter than pet Instagram accounts? As a dog lover, and an armchair traveler, dog adventures are sometimes the best way to fill that wanderlust in your heart. We've scoured the internet to find the best possible doggy adventures on Instagram.
Take a look at these adorable and inspiring Instagrams!
1. Loki The Wolfdog
https://www.instagram.com/loki/
What began as the travel adventures of one photographer and one very photogenic malamute/wolfdog puppy, has changed into a great travel blog featuring Loki, as well as a business helping other dogs, with all-natural dog treats and doggy accessories. But mostly it's just photos of one seriously beautiful dog traveling the world!
2. Alison Travels
https://www.instagram.com/alisontravels
If you've got a serious case of wanderlust, Max and Cooper have you covered! Along with their human Alison, they hit the road in their outfitted van Homie, and see some of the best views you could ask for across the USA.
3. Find Me Outside
https://www.instagram.com/findmeoutside
Elena, and her lab mixes, Rio and Baya have visited just about every stop in Oregon, from mountains to deserts! They're looking forward to tackling more states, and would love the visit from you, to keep up on their adventures!
4. Explore With Ollie
https://www.instagram.com/explorewithollie/
Ollie is proof you don't have to be a big boy to go on big adventures! He and his human Stephan have visited four states so far, and hiked 32 of Colorado's mountain peaks! Take a look at his Instagram to find out how this little guy does it!
5. Millie The Golden
https://www.instagram.com/milliethegolden/
Millie and Sunny are two beautiful Golden Doodles who live in Alaska, and spend a lot of their time outdoors, camping and traveling with their humans. The wilderness is breathtaking, the family is adorable, and Millie and her sister pup Sunny always have a smile for everyone!
6. Running With Sam
https://www.instagram.com/runningwithsam/
Amy's Go-Pro skills are amazing. She and her Germain Pointer Sam spend a lot of time hiking the Colorado trails, and they track their progress on Instagram. If you've ever been curious about the best hiking trails in Colorado, you're going to love spending time with Amy, and Sam, who follows her everywhere she goes!
7. Theresa Silveyra
https://www.instagram.com/theresasilveyra/
Theresa Silveyra is a dedicated hiker trained in Wilderness First Aid who loves to tackle new horizons with her dog Cassie and her partner Mack. Her Instagram is chock full of gorgeous summit pictures, and some fantastic images of Cassie enjoying the climbs, guaranteed to encourage you to climb higher and reach further, just like she does!
8. The Hiker Pup
https://www.instagram.com/thehikerpup/
Dawn is more than a committed hiker and pet owner. She's actually a pro dog trainer, who specializes in no-force dog training. Not only is her Instagram full of the amazing views and trails she hikes with her beloved rescued Border Collie Pups, Nick and Emily, but she's also got plenty of tips and tricks for pet owners too. Nick, her most recent adoption, is still in the training phase, so we get to watch him grow into an adventurer right before our eyes.
Dogs have a way of looking at the world that makes every day feel like a new adventure. But these wandering pups take on adventures almost daily, with their running, hiking, and traveling. If you've got some wanderlust, follow these four-legged adventurers as they take on the world, and look really cute doing it! Considering, following their lead and taking on adventures of your own with your pawtner in tow? The following articles can help you get started on the right track!
How To Safely Travel Cross-Country with Your Dog
The Surprising Benefits of Hiking with Your Dog