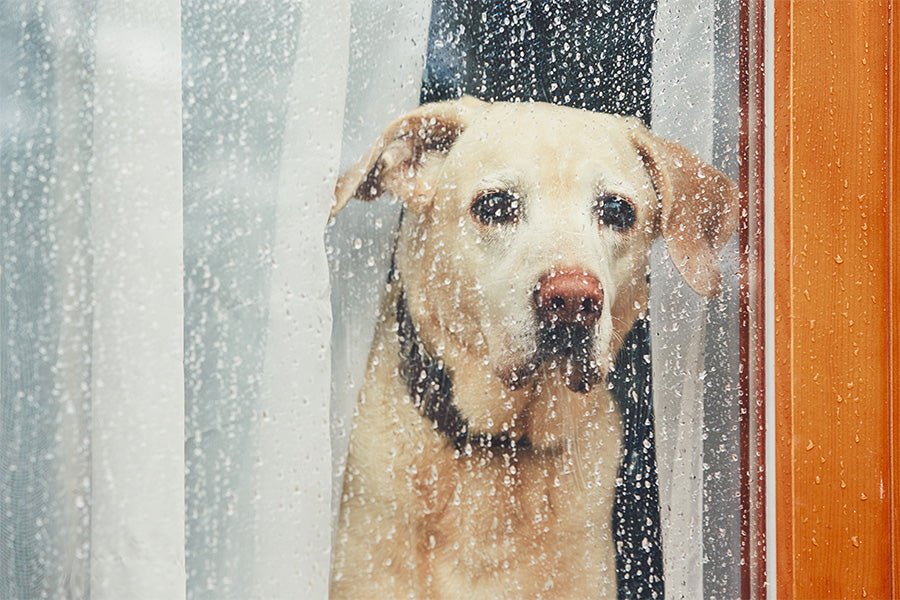 Is your dog tired of chasing his own tail around on those rainy days? Are they sitting at the front door with sad puppy eyes, yearning to go outside? Remember, it is important to keep your dog busy with physical and mental stimulation, even when they are indoors.
The following Indoor activities for dogs will help maintain your best friend's healthy bones, muscles, joints- and their minds! Just like humans, mental stimulation is also just as important as physical activity with dogs. They benefit from new experiences and challenges. Remember, it takes a dog repetition to learn something new, so keep at it. There are many ways to stimulate your dog, but one of the best and easiest ways is by allowing them to interact with the great, big world around them- even when that world is indoors!
Engaging with your dog whether it's during the dog days of summer or on a rainy day will also strengthen your bond while you both discover creative and fun indoor activities for dogs.
Tug of War
On those rainy days, offer a little exercise to your dog (and yourself) with the tried and true game of Tug of War. Dog games such as this are simple and only require a piece of rope and a willing dog partner. If you don't have a rope, fear-not, take several old socks and braid them, secure each end in a knot and instant tug-o-war rope! Your dog will love battling it out with you for the win!
Hall Ball
Every dog loves to play fetch, and just because it's raining out doesn't mean you still can't! First, find a long hall, basement area or open room. Then, roll a tennis ball down the hall and allow your dog to race after it. Turn it into a fun indoor game of monkey in middle by getting some family or friends in on the action!
Teach an Old Dog New Tricks
A rainy day is pawsitively the best time to teach your dog (young or old) new tricks! When it's sunny out, you'll both want to be frolicking outside so when the rain sets in, take this time to work with Fido on a new trick or two. Remember, repetition is the key to success! Your dog
craves stimulation and teaching them new tricks is just the ticket! Stay patient and enjoy your indoor time together!
Search and Sniff
With fond memories of hide and seek as a child, re-make those moments with your dog buddy! Indoor activities for dogs can often be taken from indoor games you played as a child. Hide and seek or search and sniff will engage your dog mentally and physically, keeping your dog busy all day long. There are several ways to play; our favorite is to show your dog an item (a favorite toy or treat works best), let them sniff it and then hide it while they then have to retrieve it. You'll be amazed at the fun you will have and at the hours that will pass by quickly.
Indoor Dog Park
If your pooch has nearby doggy friends why not invite a few over and set up an indoor dog park!? Turn your basement or garage into a doggy playland complete with rope toys, balls, and more. It'll also be fun for the owners to relax and watch the dogs play the day away. Be sure to have plenty of water available and your dog's favorite treats. By the end of the day, your dog will be ready to hit the sack and they just might dream about the next indoor activities for dogs you'll come up with on the next rainy day.
Dogs love to play, run, and be challenged. This does not have to stop because of rain, cold weather or an indoor living arrangement. Think outside the bark box and you will find indoor activities for dogs that will continue to challenge and entertain! With so many ways to keep your dog active inside, you'll be wishing it rained cats and dogs more often (maybe)!
Rain or shine, Ruff Life Gear is here to make life with your dog sunny and bright! Our best-selling coil leashes are a durable, fun, and functional dog leash that can be used during any weather for a tangle-free walking solution. Click ​here​ to shop!