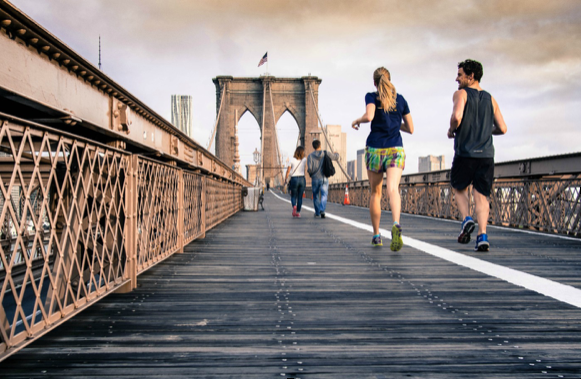 So, you want to know how to start running? That's great! Getting healthy this upcoming year will be apart of many people's New Year's resolutions. Choosing the right exercises and following through with a routine is vital to success. Running is a fantastic way of reaching your goals. In our opinion, running with your dog is even better!
We're guessing the issue here though, is that you're not really sure how to start running alone much less with your dog. That's ok though, stick with us and we'll show you the ropes!

How to Start Running By Yourself

If you're like us, your first thought, "How do I run?", seems like a silly question. Don't worry, it really is a legitimate question. Doing it incorrectly can actually damage your body. Before you even consider making this something you do often, keep a few things in mind. First, that you're putting a considerable amount of pressure (your entire body's weight, actually) on the muscles, tendons, and joints in your legs. Your knees, ankles, feet, and toes are also taking a beating. Secondly, if you're overweight or misinformed about running, you have to make some changes.

Change to a healthier diet and do some low-impact exercises like hiking with your dog, swimming or walking. Throw in some strength training too. Once you've done all of that, (a few weeks at least) you can move to the next step of running. This would be learning warm-up exercises. Warming up means more than just 10 minutes of static stretching. Instead, you'll want to do a dynamic warm-up, which basically means you move as you stretch.
You're Almost Ready!

Once you've done that, now you can finally, finally run, right?! Almost, but first, you need the proper technique. Cushioned running shoes aren't going to help with this, you have to learn it. Make sure that your heel is what's stomping the ground and keep your strides short with legs bent and underneath you instead of fully extended.

It's going to feel weird at first and your calves will hate you! At this point, however, you'll finally be running properly.

How to Start Running With Your Dog

Alright. We got all of that out of the way, so now it's time for Fido to join in. You know how to start running, but running with your dog is another story! Well, just like how you would have to get in running shape, so would your furry friend. So, again... walking, hiking, and all that good jazz will help prep them for the strenuous activity of running.
Dog Running Gear

Once your pooch is well adjusted to that, make sure you've got the proper running gear. You'll need to invest in a padded dog collar and a running dog leash. A running dog leash is invaluable for many reasons and we offer two must-have types. The first is a coiled dog leash. The coiled design allows you to run safely without getting caught in the leash. Made with a padded handle it offers a comfort grip along with tangle-free running. Our ​coil leash​ is a durable and waterproof running leash that features a glow in the dark tag and double swivel to prevent coil knotting.
The second type of dog leash for running is our multi-function running belt. This running dog leash is designed specifically for running. They are shorter than regular leashes and are made to allow safe, hands-free running for dog owners. These dog running belts​ can be worn around the waist, shoulder, or hand. Additionally, it features a buckle that allows you to alter the length of the leash.

Other things you have to consider:

• If you have a puppy wait 6 months (longer for bigger breeds) before running. At this point, even with a proper running dog leash, the pressure of regular running can hurt their growing bones.

•Let them potty before the run, consider it a warm-up walk.

•Dogs like sniffing things, let them do this before the run.

• Turn running with your dog into a game. Dogs enjoy doing things at intervals, so give your routine some flex room.

Be sure to keep your dog on the side away from traffic and make sure that your running dog leash is relatively short. That way, they don't go too far ahead of you or zig-zag into traffic.

We know that seemed like a lot but you can do this! You now know how to train your body and how to start running. Also, you know that a proper running dog leash is essential for running with your dog. And, running with your dog will help you both get some exercise and lead healthier lives! That being said, why are you still here? Go on, get out there and run. You know what to do now and we're sure Fido will thank you for it!