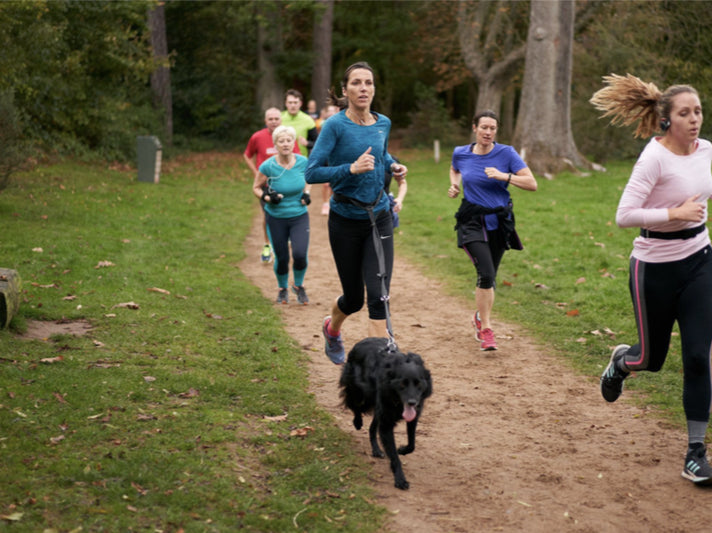 A ​running dog leash​ is essential for dogs that thrive on running daily. While all dogs benefit from running and exercise, some breeds require more than others. Active dog breeds need regular exercise to stay happy and healthy. There is also the added benefit of keeping you fit as well!
List of Running Dog Breeds
All dogs need to run, but there are five active dog breeds that need to run more than others.
Greyhound
Whippet
Dalmatian
German Pointer
Vizsla
About The Breeds
All of these breeds thrive on running. Greyhounds are the fastest breed of dog and naturally want to be run. Whippets are a breed of speed runners and can run as fast as 35 mph! Dalmatians are not only known for being natural runners, but for also being distance runners. They have the natural endurance that allows them to run for long distances easily.
Pointers are known for being filled with energy. They also have a weather and water-resistant coat that makes them love the outdoors, regardless of weather. Vizslas are natural bird hunting dogs and the breed is known to spend days outside chasing birds. This breed requires time spent running each day.
*We also want to point out that when these dogs run, they ​run​! Not having the proper gear can be dangerous to you or your dog. Use a ​running belt​ and other running essentials for best practice.
Owning an Active Dog Breed
These five breeds of dog need to run to not only stay fit but to also stay sane. Dog breeds that don't get the necessary time to expel energy will become stir crazy. That boredom may lead to destructiveness or other behavioral issues. Bottom line is, they must get their energy out on a daily basis.
Running provides both a physical and mental release for these breeds. They can run in open areas or are excellent choices for avid runners. We guarantee, they would love nothing more than to ​run alongside their favorite human​ counterpart!
Maintaining an Active Dog
 Having a ​dog walking service​ on hand can help maintain your pets daily run. This way, when work or personal life gets in the way, your dog won't have to suffer. A dog walker can provide the exercise your dog needs and you a guilt-free option.
Dog Leash for Running
Having a dog leash for running will be more comfortable for both you and your dog. A running dog leash is designed specifically for running. They are shorter than regular leashes and are multi-functional. They are made to allow safe, hands-free running for dog owners. These dog running belts​ can be worn around the waist, shoulder, or hand.
Other Running Essentials
Another fantastic tool to have is a ​collapsible water bowl​ for your dog. This way you can easily share water from your water bottle with your pooch. When they are done, shake it out, and throw it in your fanny pack!
A coil dog leash is also a pawesome option for a running dog leash. The coiled design allows you to run safely without getting caught in the leash. Made with a padded handle it offers a comfort grip along with tangle-free running. Our ​coil leash​ is a durable and waterproof running leash that features a glow in the dark tag and double swivel to prevent coil knotting.
It's important to find out the activity level of different breeds. This will ensure you choose the dog breed that is right for you and your family. Active dog breeds rely on daily exercise to maintain a healthy and active lifestyle. Our running leash solutions can help you and your dog to enjoy all the benefits running has to offer...hassle-free!