Surf's Up Dog Hands-Free Large Leash CLEARANCE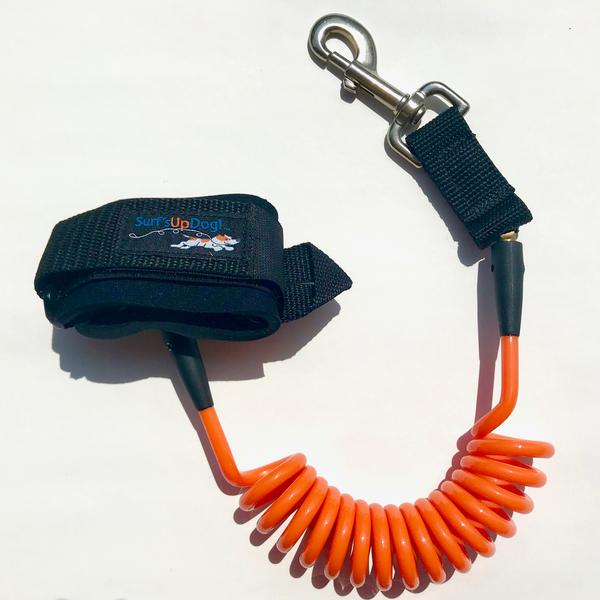 Works great with a wheelchair!
Customer service really stepped up when PayPal option was not working. This attachment works great on my electric wheelchair. I have a 75# boxer that was just learning how to walk next to me now that I use a wheelchair and this is a fantastic option because it is hands-free, especially when I just had another shoulder replacement. Thank you.
Awesome leashes!
I had purchased a Surf's Up dog leash several years ago to walk my whippet. He likes to stay right beside me, and I would constantly have to take up the slack from a regular leash if I used that. The Surf's Up leash was a perfect solution for this dog who stayed close but occasionally wandered over to smell the grass on the edge of the road or path. That leash looks almost new after at least 5 years. I purchased 2 new leashes for my young cavapoos, who constantly entangle themselves when we are walking. I guess my old leash was for a smaller dog, because while it is plenty stout, the new ones are industrial strength. I ordered leashes for my cavapoos according to their weight and got the leashes for the larger size dogs. While it is super stout, my cavapoos are strong enough to stretch it out without any problem. The new version, or maybe because it's the large dog version, also comes with a handle close to where the leash connects to the collar/harness. This is a nice feature for when you want the dog to stay close to you. I ordered 2 sets of leashes--2 to strap around your wrist for hands-free walking, and 2 with the regular, padded handle. I wish I had ordered the smaller dog size because the large dog size is a bit bulkier, but that was on me. Customer service was amazing--I got 4 leashes on clearance! The staff made sure I got some leashes, even though they were sold out of what I had originally requested. Overall, these are awesome leashes. Durable, versatile, comfortable, and attractive. I highly recommend them.
Love the leash
Great Purchase Great Value
Would shop here again!!
LOVE RUFF LIFE GEAR!
This is my third purchase with Ruff Life and I don't look any place else. My dogs and I love the collars, coil leashes, and bowls. We are the trend setters at the local eateries, dog parks, and farm markets.
Perfect for summer adventures
Bruce and I are very happy with the Surf's Up hands-free leash. Swimming together has never been easier.