Surf's Up Dog Padded Collars Clearance**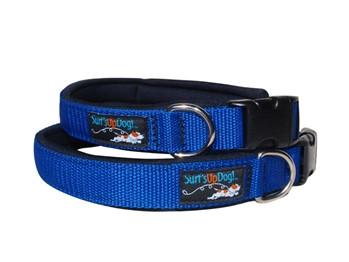 Surf's Up Dog Padded Collars Clearance**
Best collars for your best friend
The padding on the inside of these collars make them so comfortable for my dog that I can't imagine using any other collar anymore
Collars for labs
These are the best collars for dogs that swim in the ocean. Last forever! Wouldn't buy anything else...
Best collar ever!
Ellie says she loves her collar. In her words "I wear it everywhere, this is significant because my typical weekend is shopping at the farmers market, going for a casual lunch, and then a hike through the wooded creek bed (where I might sneak a quick dip) or a swim in the pool. My collar stays intact, never bothers me, and it dries quickly. A plus is it is available in an array of colors and patterns but all are stylish enough to be appropriate for any occasion.
Best ever
I have tried many different collars for my water loving dogs and these are hands down the best ever! No stink ever and they dry quickly. Other collars who claimed to be water collars would rust making the buckle useless but the plastic buckle prevents that and keeps it working like new. I love these collars and so do my pups!